Feb 6, 2017 4:06:35 PM
Q&A: Ani Rupchian Tells the Tale of a True American Family Success Story
Posted by Icing On The Ring

Our Store
The Rupchian family has been in the jewelry business for generations, having established roots in Downtown LA way back in 1969. Today, Ani, Vic, Raffi, Garo and Ara comprise the trusted Icing On The Ring team.
We spoke to team member Ani Rupchian about Icing On The Ring's humble beginnings, the evolution of engagement ring style, her favorite customer moment, and more.
Q: How did Icing On The Ring start? How is it connected to your family's story?
Ani: When my dad and his father (both jewelers) came to the United States in 1967, they laid the foundation for The European Jewelry Company (now Icing On The Ring) together. My dad, who has been working in jewelry since he was 16 years old, was a bit more familiar with English, and he took the reins on doing most of the bench and design work. In 1969, they officially launched the business in Downtown Los Angeles, and we've been here ever since.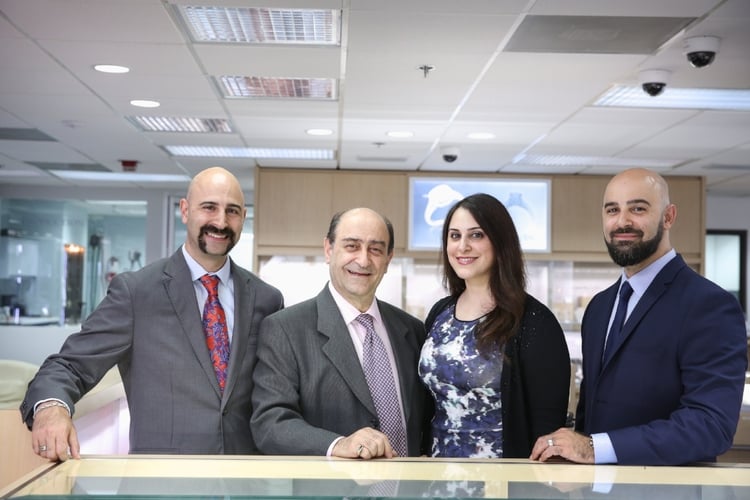 At first, the European Jewelry Company wasn't really open to the public, my dad just worked as a designer and did most of the hands-on jewelry work for other stores. Eventually, the company became a wedding and fashion jewelry retailer instead of working exclusively within the trade. Around that time, my brother Vic joined the business and began focusing on marketing. Raffi joined shortly after, and became more involved in sales. Then, I graduated Cal Poly Pomona in 2008, and joined the business myself. I was never put in a position where I was forced, obligated, or pressured to become a part of the team. Basically, my parents just told me, "try it out if you want. If you like it, great. If not, that's fine too. Just explore your options." After working here for a year or two I couldn't really picture myself working anywhere else... the business is like our baby, and it's our second home, too. You can imagine we spend a lot of time together here in the store. It's always been all in the family!
Q: When did your love for jewelry first start to manifest itself?
A: I started really loving jewelry when I was around 13 or 14 years old. If I had school off and wasn't able to stay home alone or with my mom, I would come to work with my dad. That's when I started exploring the showroom and showcases, seeing what was in the vault, always asking about what was in the safe, trying different pieces on, or just looking through sketches and designs that my dad was working on and bringing to life.
It's really interesting to see a piece of jewelry on paper, initially sketched out, and then watching the different stages of development unfold. The piece is converted into wax and then metal form and is polished completely before the stones or gems are set. Of course, as a girl, the feminine part of me was very intrigued and excited to try on different pieces and play around with them. It was never dull in our store!
Q: Do you recall any particularly fulfilling experiences with customers?
A: Once, two sisters came in. The younger of the two had purchased her wedding set with us. The older sister was under the impression that they were both shopping for a ring for their mother. They began checking out the different rings, and the younger sister kept asking the older sister to try on styles. "Mom's finger and hand sizes are much closer to yours -- let's see how this would look on her." They browsed the entire showcase, and ended up honing in on the halo collection. Then, they selected a ring that they both fell in love with immediately.
They asked me to save the style numbers and the older sister's finger measurement so that they knew what size to order. They wanted to put the style number on standby, sort out their finances, and place the order shortly after. After they left the store, the younger sister called me to let me know that that whole visit was planned on behalf of her future brother-in-law. The mission was planned so the boyfriend could get a really good sense of what she liked. He came in afterwards, alone, and ordered the exact same ring, in the exact same size, and selected a diamond. He ended up proposing with that very model. We made her ring fresh from scratch, according to her finger size and the size of the diamond that he selected.
About three weeks later, I got an email with a photo of the older sister holding her bejeweled hand up, thanking me for making the ring of her dreams come to life.
Sneaky, but very, very clever!
Q: Looking back on the industry, styles and landscape of this industry - how has it all changed? How has Icing On The Ring evolved over the years?
A: The variety of rings in our original collection wasn't as vast as it is now. We learned very quickly that we had to keep up with emerging styles and trends. We must always ensure that we're carrying the right assortment before demand rapidly increases. Customers should feel confident that we could provide different design options, gemstones, and metal choices. Though it may be surprising, some customers these days do not necessarily want a diamond, they may want a morganite, an amethyst or a sapphire. We want to run a store that tells them, "That's unique. Let's work on that. Let's make that engagement ring just for you" -- even though it might not be the norm.
Ring designs and the size of center diamonds have changed drastically. I feel like the prefered size of the center diamond becomes larger and larger every year, for some reason. One year it's 1.00 carat, but the following year 1.25 is the new 1.00ct. Then the following year, 1.50 is the new 1.25ct, and so on and so forth.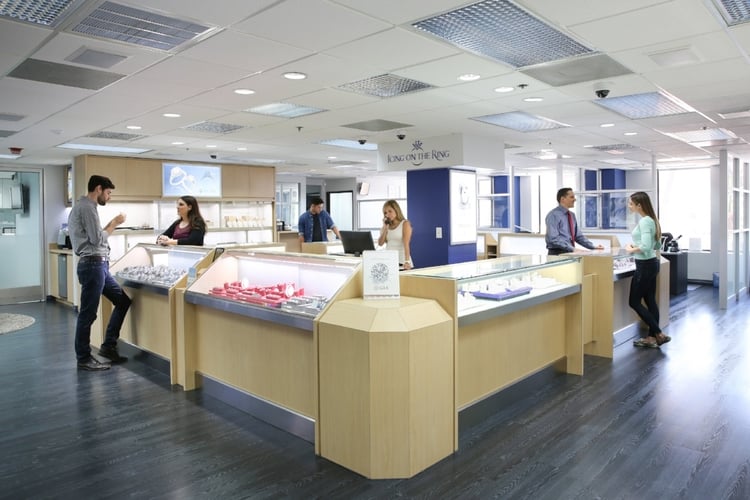 When I first joined the business, big, bulkier designs were more popular. Now it's the complete opposite -- it's about more thin, dainty, and delicate designs. People consider what's going to help the center stone pop more and look larger. Halos, which are rings that have smaller diamonds surrounding the center gem, are consistently popular and (probably) here to stay. I think it's because the halo of diamonds highlights the shape really nicely and visually enhances the size of the center gem.
For a long time, yellow gold was never requested or in style. I think it was associated with an old-fashioned look or appearance. About three years ago, rose gold suddenly became very, very popular. This brought yellow gold back into the spotlight.
Q: What kind of advice would you give to a guy who doesn't really know much about this stuff, but wants to surprise his girlfriend with the perfect ring?
A: Back when I joined, social media wasn't really something you had access to in the palm of your hand. Now you have a constant source of your lady's favorite diamond imagery from Pinterest, Instagram, and Facebook. A friend or relative of your girlfriend is usually just a text away, and through tools like FaceTime, you can even bring them into the conversation while you're literally shopping in store. It's very interesting to see how the technology has evolved and how it plays a role in the ring shopping process. Often when a gentleman comes in by himself, the first question I ask is, "do you have any idea what design she likes?" Nine out of ten times they say, "Yes," and then immediately add, "can I show you a picture?" They bust out their smartphone and go through their girlfriend's profile to show me what she has saved.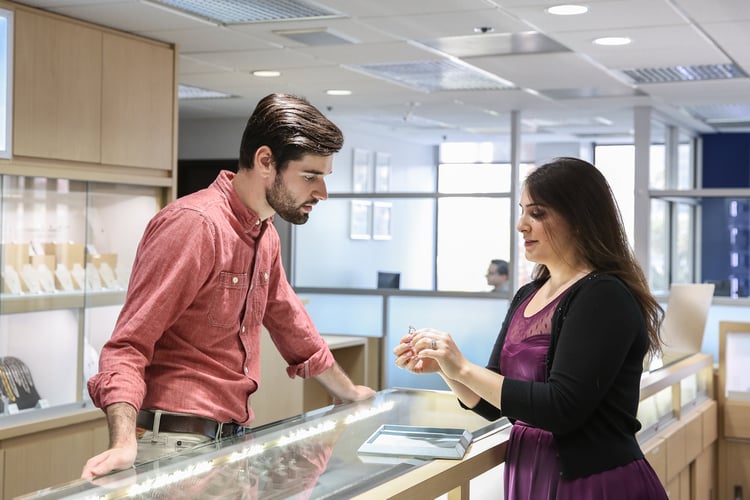 Once we have selected the top three to five options, I start to help him eliminate. I tell him to think of what she would want to wear 20, 30, even 50 years down the line. Usually selecting a timeless and classic ring is the safest way to go. Then, I ask how large or small her hands and fingers are, because that helps determine what size the center gem and ring width should be.
I would definitely suggest that customers take mental notes if she drops hints here and there in conversation. Be alert and aware, as there's probably a reason she's dropping those hints and keeping styles in mind.
Q: What are your customer relationships like?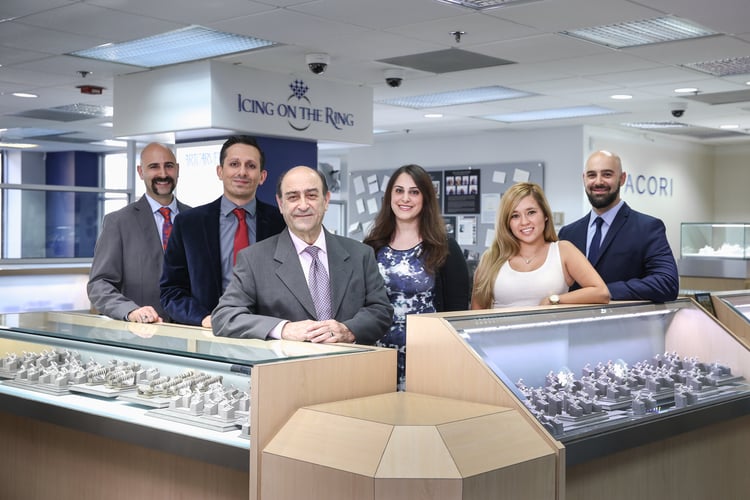 I feel so proud of our company when I witness customers come in and greet us by our first names, or feel comfortable enough to say hello and goodbye with a huge hug. It really shows that we aren't just nameless salespeople to them. We're more like caring consultants, who had the pleasure of being part of their story. Some even come to introduce their newborns! Whether they're returning to shop for special occasion jewelry (anniversary, birthday, graduation, etc.) or referring their friends and family members to us, it's very fulfilling to see that we are still trusted and remembered, and continue to be part of their lives.
Ready to pick a diamond engagement ring for your future wife? Check out our
step-by-step "How to Pick A Diamond Engagement Ring" guide
, get educated and prepare to pop the question!