Feb 9, 2016 10:17:11 AM
The Best Valentine's Day Proposal Ideas for Every Type of Couple
Posted by Leah Arnold-Smeets

Proposal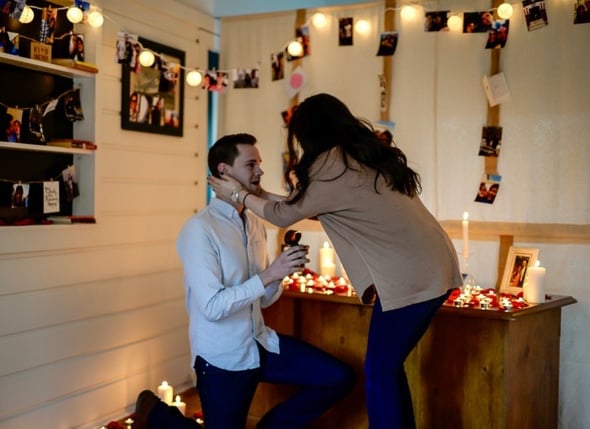 What better day to propose to the love of your life than the most romantic day of the year?
Valentine's Day is one of the most popular days of the year to ask the woman of your dreams for her hand in marriage.
Love is in the air and people are rushing around trying to be super romantic to their significant others, which is also why Valentine's is the perfect day (and decoy) to help you plan an epic proposal without her suspecting a single thing. Plus, women always want a good story to tell when people ask how they got engaged, so give her something worth talking about.
This year, instead of gifting her the usual box of chocolates, flowers, and romantic dinner, why not up the ante and give her a gift that will last a lifetime -- the perfect Valentine's Day proposal.
To help you out, we've compiled a list of useful tips to help you pull off the perfect proposal this Valentine's Day. Simply skim the list below to see what type of couple best describes you and your lucky lady, and start planning one of the most momentous days in both of your lives.
For The Shy, Introverted Couple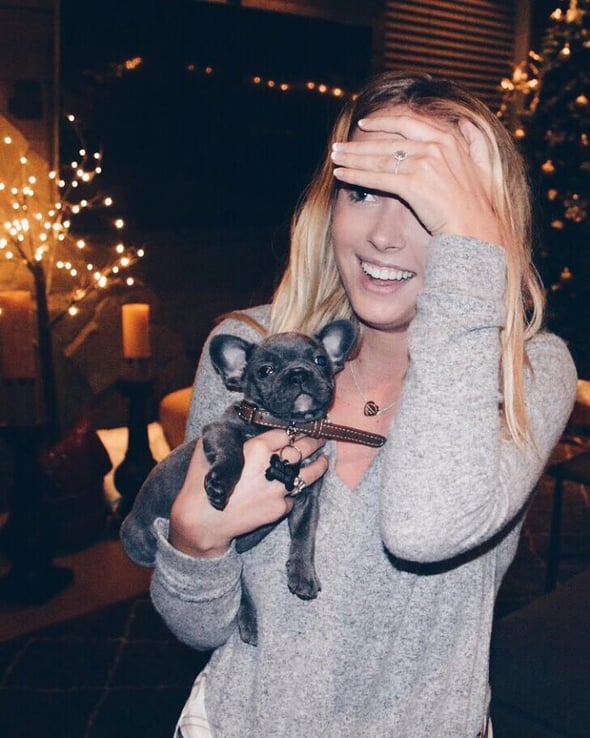 If a night in is more appealing than heading out to a crowded bar, then, chances are your girlfriend isn't going to want a flash-mob proposal with tons of witnesses.
Don't be fooled into thinking that all women want an elaborate proposal, because many don't, despite what the movies try to make you believe.
This should be a special moment for both of you so keep your plans within your comfort zones -- and trust us, you'll be nervous enough for the both of you as it is. Instead of an over-the-top proposal, the key is to keep it intimate, private, and personal so that neither of you feel overwhelmed in the end.
For The 'Go Big or Go Home' Couple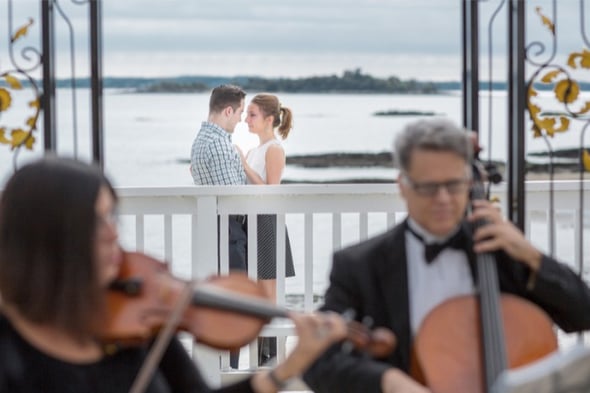 You and your lady are known for your amazing dinner parties, crazy antics, and bigger-than-life personalities, so the bar is already set pretty high for pulling off a proposal of epic proportions.
However, don't let your nerves get the best of you -- you've got this!
Tap into your resources (the ones that can keep a secret) and brainstorm some proposal ideas that will completely knock your girlfriend's socks off.
The hardest part about planning and executing your proposal will be ensuring that everyone's lips are sealed and nobody gives away the big surprise. Remember, you're going for shock-appeal, here, because you want your lady to be completely shocked and doing the ugliest happy cry ever.
For The Traditional, Romantic Couple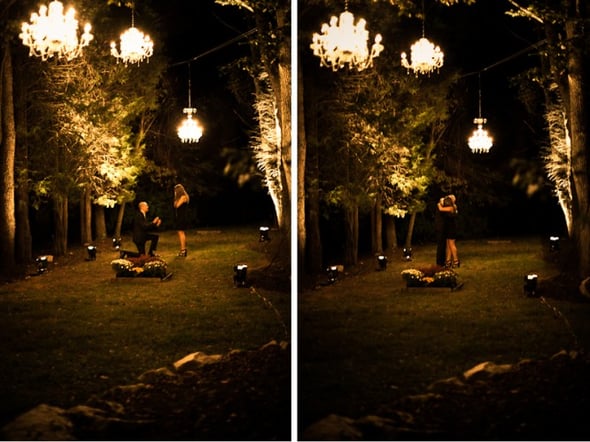 For you two love birds, it's Valentine's Day every day. The 5 Love Languages are basically the only languages you speak to each other, so this whole proposal thing is right up your alley.
Romance is different for every couple, so do what works for you and her and add some personal touches that are unique to your relationship.
For instance, while some women may prefer to have you pop the question at an intimate gathering with close family and friends, your girlfriend may simply want a more private setting where you whisk her away on a romantic weekend getaway to propose.
There's no right or wrong way, really -- it's all a matter of doing what feels right for you two. Want to really kick the romance into overdrive? Hire a photographer to secretly snap photos of your proposal without her knowing, then wrap the framed photos and gift them to your bride-to-be on your wedding day.
For The Adventurous, Jet-Setter Couple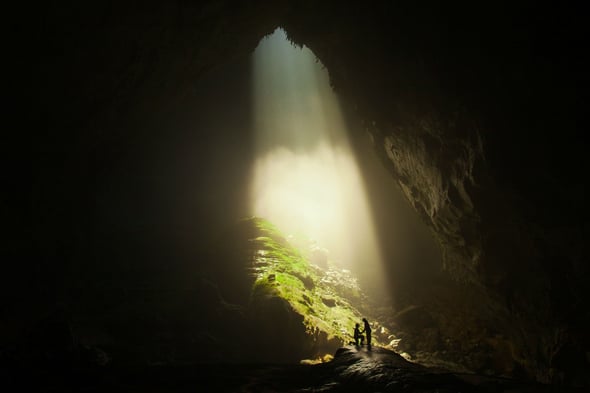 If your and your girlfriend's passports have more stamps than the post office, then you need a proposal that is just as adventurous as your lives.
Of course, a destination proposal may require a bit more effort and money than a conventional proposal to pull off, but you aren't with this woman because she's conventional.
If you two met overseas, take her on vacation there and surprise her by proposing in the spot or city where your adventure together began. You can also take her to a destination that you both have been dying to travel to and start your 'happily ever after' there -- because Valentine's Day + vacation + proposal = 1 million brownie points for life.
For The Sporty, Athletic Couple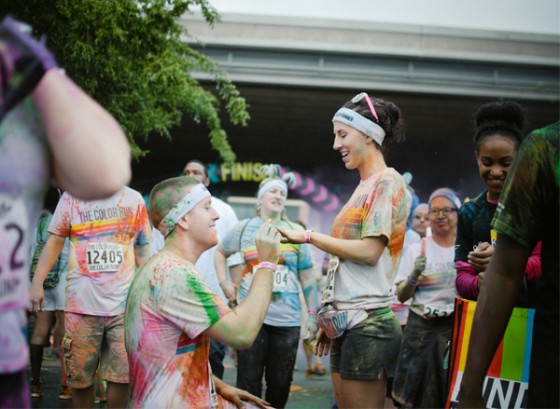 If you and your lady are athletes, cheer on the same sports team, and/or share the same alma mater, then definitely consider doing a sports-themed proposal.
Although you may not have the connections or cash flow to pull off a Kanye West full-production baseball stadium proposal complete with "pyrotechnics, a Jumbotron, and a 90-piece orchestra," but that doesn't mean you can't knock your proposal out of the park.
Many everyday guys have pulled off the ultimate halftime proposal simply by being persistent and inquiring with the stadium or arena, so definitely don't give up on your dream of proposing centerfield.
What's more, you never know nowadays with social media and things going viral, your favorite player may even lend a helping hand if you're clever enough in your asking.
After all, isn't your girlfriend the MVP in your life?
The most important thing to consider before planning out your proposal is whether or not your girlfriend wants a private or public proposal. After you figure out that very important detail, you can start compiling your dream team and start formulating your master plan proposal.
Again, do what feels right for the both of you, because you don't want to do something so over-the-top that you're a nervous wreck the entire time.
Lastly, you're going to want the perfect engagement ring to go along with that perfect proposal you've been planning out, so head on over to Icing On The Ring and find her dream ring today.
Our expert team of certified gemologist and jewelers will be there to answer any and all questions you may have about picking out the perfect engagement ring for your wife-to-be. You already have enough to worry about with the proposal, so let Icing On The Ring take care of the ring.