Nov 30, 2015 11:35:38 AM
How to Get the Biggest Diamond at a Surprisingly Affordable Price
Posted by Leah Arnold-Smeets

Engagement Rings
When it comes to diamond engagement rings, bigger is usually better.
So, how do you afford the diamond engagement ring of her dreams when it's out of your budget? Here are five ways to get the biggest diamond at a surprisingly affordable price.
Diamond Alternatives
Moissanite crystal is a great diamond alternative because it looks nearly identical to a diamond but far less expensive. This brilliant crystal also has a light-refracting property that is 2.4 times greater than a diamond, comes in second to a diamond in hardness, and is ethically sourced.
Here's a great video that can show you that a regular diamond vs a moissanite crystal is almost indistinguishable.
Imperfect is Beautiful
Remember, imperfect is beautiful too. To the naked, untrained eye (which is pretty much a vast majority of the general public), a diamond is a diamond. We highly doubt anyone is going to whip out a loupe and inspect your diamond when you tell them you're engaged -- just trust us on this one. Bigger diamonds that are imperfect in color and clarity will be significantly less expensive than one higher up on the grading scale.
Shape Matters
Can you guess which diamond shape is the most expensive? If you guessed round, then you're absolutely right. If your lucky lady doesn't have her heart set on a round-cut diamond, then you and your wallet are in luck. Diamonds that are any other shape than round are considered "fancy" and, often times, significantly less expensive than round-cuts.
If you're looking for the biggest-looking diamond shape for your money, then consider a marquise-, oval-, or pear-cut diamond, which all appear bigger than what they are, thanks to the elongated shape of these diamonds. However, if a more traditional shape is desired, you may want to consider asscher-, princess-, emerald-, or radiant-cut instead.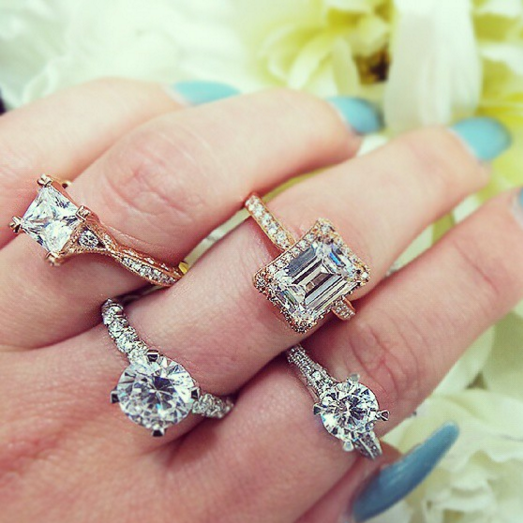 Tip: If her heart is set on a round cut, then consider doing a halo setting. This way, you get that larger-than-life center stone without breaking the bank.
Under-Weights
Does she want a diamond of a certain carat weight, but you don't know how you can afford the price tag? Consider going for a less-than-full carat weight instead, meaning go for a diamond that is 0.9 carats, rather than one that is 1.0 carat. In doing so, you could save anywhere from a 20% - 30% by opting for a fraction of a full carat.
Trust us, no one is going to be able to (or even care to) eye-ball the carat weight of your diamond, so go for the "lesser than" carat diamond and save yourself a few bucks -- because your lady is going to round up to the nearest full carat anyhow. It's a win-win situation, really.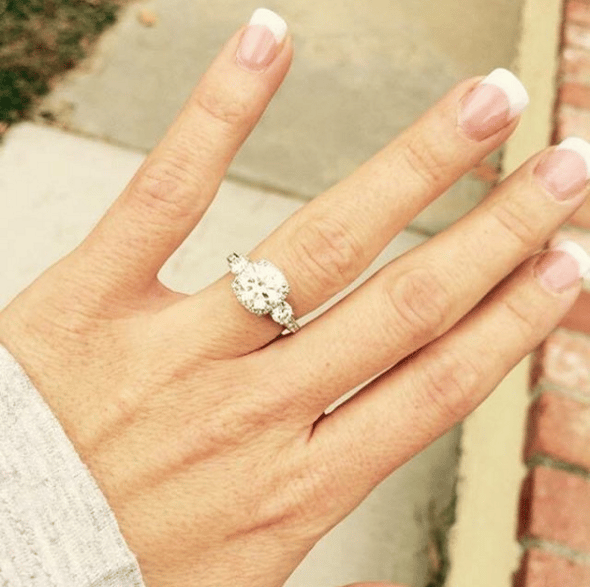 Nix the Designer Rings
As with anything designer, the label comes with a premium -- this is especially true for diamonds. Name-brand jewelers mark up the price tag of their rings because they know people will pay extra for a designer ring. However, if your budget doesn't allow for a name-brand ring with a certain carat size, then you will need to sacrifice quality, size, or the fancy label. If your girlfriend truly has her heart set on that one designer ring, then see if she'll consider having it custom-made instead, because it will be significantly cheaper.
At Icing On The Ring, we understand that buying the engagement ring of her dreams may not fit into your budget right now, but that doesn't mean it won't in the near future. It's for this reason that why we offer our Lifetime Diamond Trade-Up Program that allows customers to trade in their IOTR diamonds for a credit of 100% of the original purchase price to put towards an upgraded diamond of their choice. We also offer our Lifetime Protection Warranty and Complimentary Care Service Package for all of our diamonds, so that your ring maintains its brilliance over the years, free of charge.
Shopping for that perfect engagement ring doesn't have to break the bank. All it takes is some patience and an experienced, reputable jeweler to make all of her diamond engagement ring dreams come true.
Stop by Icing On The Ring to find that diamond stunner that she's always wanted at a price that you can afford.